UR Media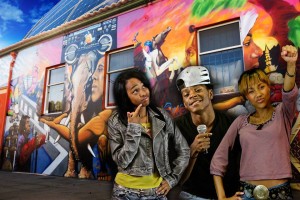 United Roots is a media education hub that trains young people of color to be the next generation of socially conscious media makers. United Roots offers this free media training to low-income youth and young adults ages 13-24 from Oakland and the greater Bay Area. United Roots specifically offers media training to members of the DetermiNation young Black men's group, and Green Eyed Media is in partnership with United Roots to design industry standardized curriculum and recruit professional trainers to prepare young people at United Roots to launch a productive career in the media industry. United Roots also manages UR Media, an organizational company co-managed by United Roots' youth and staff that offers affordable youth-led media production services to organizations, agencies and businesses.
United Roots works with professional media instructors to offer industry-level training to youth and young adults. Once a young person completes a media training program at United Roots he/she can became an intern with a specific media department and gain experiential learning in the field with mentorship from a media professional. United Roots' Media Trainers help manage paid contracts and support these young people with media production.
United Roots is a storefront business in Oakland that offers a co-working office space to youth, called Youth Impact Hub. United Roots is a solar-powered "green" facility located at 2781 Telegraph ave., Oakland, CA 94612, and provides young people with access to media labs, media equipment and computers Monday through Friday 12-8pm. The Youth Impact Hub has a social-entrepreneurship training program, called the Youth Hub Fellowship, that supports young people in launching their own media enterprises. United Roots is a community center that houses many youth-led companies, and the young people that use the facility work together to provide services to the community. The most well-known youth-led media production company to launch out of United Roots' Youth Impact Hub is Simphony Productions.
Location: Oakland, CA
Services: Film Production, Graphic Design, Video Game Design, Web Design, Music Production and Photography