1st Platoon: Alpha P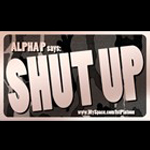 Since its birth, Alpha-P has grown from its nine-member foundation, to a larger collective of emcees, deejays, b-boys, and other artists and visionaries. Spearheading the evolution are Seattle natives Asun and Jerm; also members of Project Mayhem and 206 Zulu the Universal Zulu Nation Seattle Chapter. Having endured much adversity and struggle in their own coming-of-age, these veteran emcees envision music as a platform to not only entertain, but also to uplift, unify, and empower by generating knowledge of self, cultural relevance, and artistic expression.
Since the mid 90s, Alpha-P members have progressed individually and as a group; in turn creating massive catalogs of independent material and releases on CD, tape, vinyl and video. Projects include – Heavenly Ghetto Cuts, Verbal Swordsmen, The Naps Project, The House That Love Built vol. 1 & 2, Bread N Butter, Mad Won West Coast Under Low, 4 Evergreen Cuts, Titanium Buttermilk Rhinoceros Briefcase, Progress, Prof. Maklemore, Mobile Suit Battle Memoires, Codex Di Satio, Other Ground Label Sampler, Reigncraft vol. 3, Nishkaigan, Best of Seattle, Power Man & Iron Wrist vol. 1 & 2. & West Coast Scavengers 12.
Through the years, Alpha-P has created professional partnerships with many community-based organizations and crews such as- Project Mayhem, MAD Krew, Universal Zulu Nation, Project Blowed, Silent Lambs Project, Black Anger, Tribal, 206-Hop, Sea-Sick, War Party Thugs, Masters of the Universe, Abyssinian Creole, Mind Movers, Battle Axe, & Black Swan Foundation.
Services: Music Production, Deejaying, Emceeing, Break Dancing, and Graffiti.
Contact: Styleout (@) gmail.com
Website: www.MySpace.com/1stPlatoon