A.S.H.E.S. The Chosen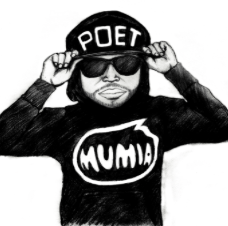 Seattle-bred emcee A.S.H.E.S the Chosen, along with his band April 12th, create a soulful, Hip hop meets folk revival music mosaic. Though laid back in his demeanor, A.S.H.E.S excites the crowd with an energetic and commanding stage presence, elaborate wordplay, and deep personal narratives told through his rhymes. His current lead single "Tears In Your Eyes", which tackles the issue of domestic violence through a three-part narrative, has established A.S.H.E.S as a creative and innovative songwriter, while also gaining national and international radio play the #23 record on CMJ's Hip Hop Charts. A.S.H.E.S the Chosen has been featured on iHeart Radio, KJR FM/AM, Northwest Cable News, Seahawks Fone Zone (with Chris Egan), Komo News, King 5 News, and Evening Magazine.
In preparation of the upcoming project Id, Ego, Superego, which was released for free this last Summer, A.S.H.E.S has partnered with Stampede Music (Snoop Dogg, Macy Gray, YG, Far East Movement) and embarked on a promotional tour which has included performances at The Real Radio Show in New York alongside Billy Mira, at the House of Blues in Los Angeles, and at the Red Gorilla Music Festival at South by Southwest (SXSW). Since May 1st, he has had performances at University of Southern California, University of California Santa Cruz, Sacramento State University, and at the KMUD Radio Block Party in Redway, CA. Currently ID, Ego, Superego has been picked up and played on over 100 radio stations nationwide and internationally.
Services: Music Production, Lyric Writing, Motivational Speaking & Education
Contact:  ashes@smgmusic.net
Website: www.ashesthechosen.com