E.14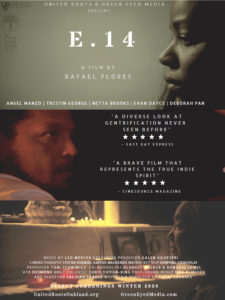 Duration: 86 Minutes
Release Date:  2020
Writer, Director & Editor: Rafael Flores
Director of Photography: Stefan Ruenzel
Executive Producer: Galen Silvestri
Starring: Netta Brooks, Trestin George, Angel Manzo, Deborah Pan & Evan Dayce
Synopsis:
The intersecting stories of a young sex worker, an undocumented teenager, a reformed pimp, a homeless Black youth, and an elderly Chinese woman who struggle to survive displacement while living along East Oakland's International Boulevard, otherwise infamously known as "East 14th".
Plot:
As a young sex worker (Liberty) desperately searches for housing after recently discovering she is pregnant, her pimp (King) battles with leaving the sex trade so he can be there for his new daughter.  Meanwhile, a young undocumented teen (Augustin) is pursued by a bully who he encounters in a homeless shelter while he searches for safe place to sleep, while a senior citizen can collector (Wei-Ling) argues with her son (Jimmy) over selling the family home to pay medical expenses.
Made with the support of the Oakland Cultural Arts Fund & The California Endowment.