My People Are Rising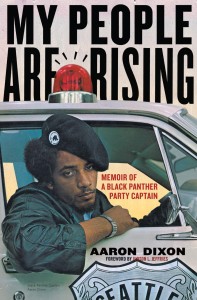 In an era of stark racial injustice, Aaron Dixon dedicated his life to revolution, founding the Seattle chapter of the Black Panther Party in 1968 at age nineteen. In "My People Are Rising", he traces the course of his own radicalization, and that of a generation. Through his eyes, we witness the courage and commitment of the young men and women who rose up in rebellion, risking their lives in the name of freedom. "My People are Rising" is an unforgettable tale of their triumphs and tragedies, and the enduring legacy of Black Power.
The United States government attempted to institutionally dismantle the Black Panther Party and was complicit in the assassination of several Black Panther leaders. In the midst of the chaos, Seattle Black Panther Captain, Aaron Dixon, fought hard to preserve his own life while trying to establish a community movement in a region where white politics dominates even today. Once called upon by Huey Netwon to return to Oakland to protect the headquarters of the party, Dixon learned lifelong lessons that came to be essential in organizing political groups outside of California.
Director/Editor: Rafael Flores
Starring: Aaron Dixon, Bobby Seale, Elmer Dixon, Elaine Brown & Ericka Huggins
Headliner - 2018 Seattle Black International Film Festival
Nomination for Best Documentary - 2018 Seattle True Independent Film Festival
Official Selection - 2020 Black Panther Film Festival
Official Selection - 2019 Social Justice Film Festival
Official Selection - 2019 Docs without Borders
Official Selection - 2018 Oakland International Film Festival
Official Selection - 2018 San Francisco Black Film Festival
Official Selection - 2018 DUMBO Arts Film Festival (NYC)
Official Selection - 2018 Black & Brown Unity Film Festival
Exhibition - 2019 Skyline College (Seattle, WA)
Exhibition - 2018 University of California, Berkeley
Exhibition - 2018 Vallejo Downtown Theater
Exhibition - 2018 Google Black History Film Festival